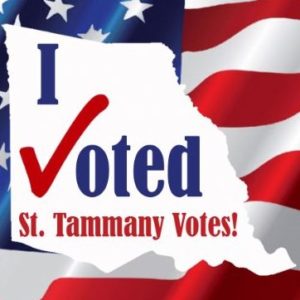 By: Sara Pagones www.theadvocate.com
The statewide shortage of "I voted" stickers that prompted plenty of grousing at the polls and on social media last month won't be an issue in St. Tammany Parish on Saturday. Voters who show up to cast ballots for several runoff elections will get a red, white and blue sticker featuring the outline of the parish against an American flag and the words "I Voted/St. Tammany Votes."
"I tried to personalize them for our parish," said Clerk of Court Melissa Henry, who had 50,000 stickers printed. "Whatever I can do to encourage people to get out and vote." Henry took pains to point out that the while the money for the stickers came out of her budget, the clerk's office is a "fee for service" agency that does not collect taxes. The cost was $842.
The clerk's office had some stickers at precincts on Nov. 6, but not enough for everyone, something that voters experienced statewide. Acting Secretary of State Kyle Ardoin's office blamed the shortage on budget constraints. But Henry said that the Secretary of State has never provided enough stickers for every voter to get one. While they're available at early voting locations, there are usually only 20 to 30 stickers available at each precinct.
Henry got the idea of providing stickers from another clerk of court and hopes the custom stickers will generate some excitement, like the George Rodrigue Blue Dog stickers that former Secretary of State Tom Schedler commissioned in 2016. The idea is to remind people to vote, she said, whether they see someone wearing one or see a friend post a selfie on social media showing the sticker. She's hoping voters will get into the spirit by posting their sticker picture with a hashtag — #StTammanyVotes.