By: Bob Warren, Nola.com/The Times-Picayune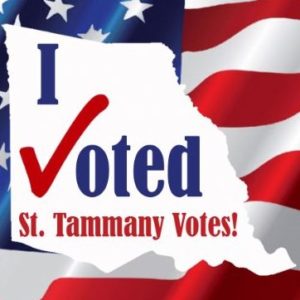 Across Louisiana on Nov. 6, some voters leaving polling places noted a conspicuous absence: No "I Voted" stickers.
It was a disappointment, the kind that could drive people to social media. And that's where some folks went, taking to Twitter and Facebook to share their consternation over not having received a red, white and blue memento of their experience behind the curtain.
But that shouldn't be the case on Saturday (Dec. 8) in St. Tammany Parish. Clerk of Court Melissa Henry, in a news release Wednesday, noted voters' disappointment Nov. 6 and unveiled parish-specific stickers.
The design shows St. Tammany Parish against the backdrop of the American flag. "I Voted St. Tammany Votes,'' the sticker proclaims.
Responding to the social media outcry Nov. 6, the Louisiana Secretary of State's office explained, on its Twitter page, that budgetary restraints prevented it from buying stickers for every election. An office spokesman also said stickers are usually provided by voting officials in individual parishes.
Henry said her office is paying for the St. Tammany Votes stickers. She noted that her office is financed by the fees it collects for various services and receives no taxpayer funding. Her office said it purchased 50,000 stickers for around $842.