MAY 2, 2018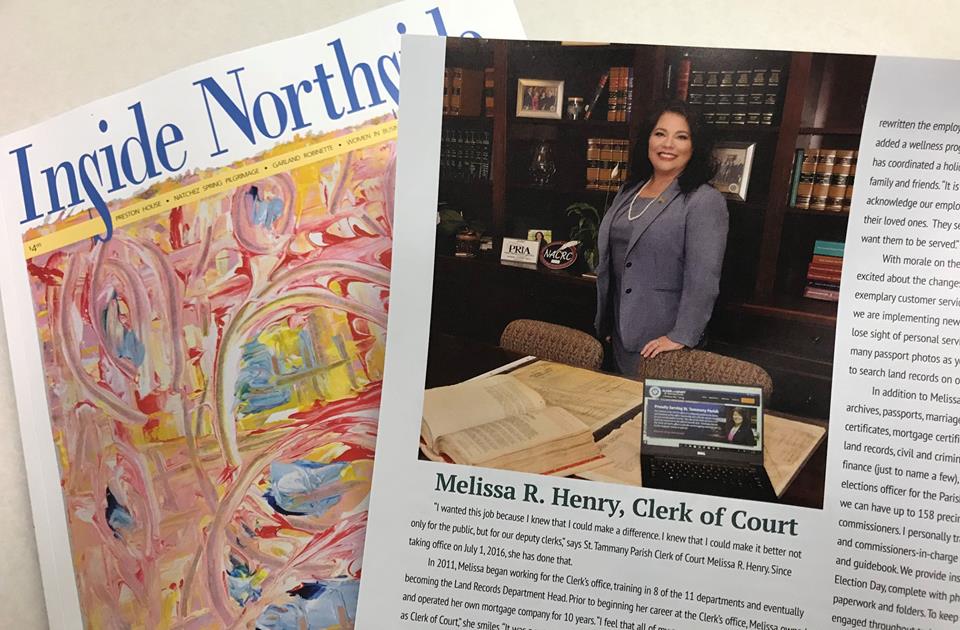 –INSIDE PUBLICATIONS
"I wanted this job because I knew that I could make a difference. I knew that I could make it better not only for the public, but for our deputy clerks," says St. Tammany Parish Clerk of Court Melissa R. Henry. Since taking office on July 1, 2016, she has done that.
In 2011, Melissa began working for the Clerk's office, training in 8 of the 11 departments and eventually becoming the Land Records Department Head. Prior to beginning her career at the Clerk's office, Melissa owned and operated her own mortgage company for 10 years. "I feel that all of my experience has prepared me to serve as Clerk of Court," she smiles. "It was a natural fit."
With passion and determination, Melissa has begun to fulfill many of her campaign promises. The first
was to bring the office into the 21st century with technology. "I hit the ground running, personally researching software, scheduling demonstrations, and ultimately connecting with Tyler Technologies. Tyler's Odyssey Case Management software is a key part of our technology upgrade.
"Odyssey is not software you install out of the box. Tyler has had boots on the ground in our office since
October 2017. We are the first office in Louisiana to utilize this software, so Tyler is spending a lot of time
learning our processes and terminology, as well as the unique requirements of our state. We are committed to learning and using this software to its fullest capacity."
At the forefront of Melissa's mind is efficiency without compromising quality. With the new case system,
the criminal and civil divisions will be able to work hand-in-hand with other agencies, transmitting data digitally and eliminating the need for duplicate entry of information. She explains, "Our judges will have their own part of Odyssey, which will allow them to access files from bench, review, e-sign and upload documents into our system automatically. Attorneys will be able to walk out of the courtroom and access court documents —saving time and no longer generating mounds of paper."
While Melissa has made vast improvements in technology, budget and overall cooperation with the
22nd Judicial District Court, she has also made a better workplace for the 150 on staff. "I've told everyone that I'm not changing things because I can—I want to change to make things better."
Since taking office, she has rewritten the employee handbook, improved benefits, added a wellness program, updated uniforms, and has coordinated a holiday party for the staff, their family and friends. "It is an opportunity for me to acknowledge our employees' hard work in front of their loved ones. They serve the public every day – I want them to be served."
With morale on the rise, the deputy clerks are excited about the changes, which adds to the already exemplary customer service they provide. "Although we are implementing new technology, we will not lose sight of personal service. We are happy to take as many passport photos as you'd like, or show you how to search land records on our public computers!"
In addition to Melissa overseeing technology, archives, passports, marriage licenses, birth and death certificates, mortgage certificates and cancellations, land records, civil and criminal departments, and finance (just to name a few), Melissa is the chief elections officer for the Parish. "On Election Day, we can have up to 158 precincts and 800 working commissioners. I personally train our commissioners and commissioners-in-charge with a presentation and guidebook. We provide instructions to be used on Election Day, complete with photos on how to arrange paperwork and folders. To keep the commissioners engaged throughout training, we use election trivia and humorous skits to illustrate what to do and what not to do during an election."
"We must keep the attitude that 'We're all here to serve the public'. I have been very vocal that the phrase 'That's how it's always been done' is no longer acceptable. I'm here to revolutionize the Clerk's office and to deliver the best customer service possible. I will not allow us to become complacent – we must keep reaching for the stars."