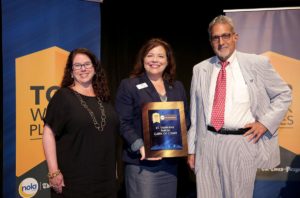 August 23, 2019
nola.com
At the fifth annual nola.com/The Times-Picayune/New Orleans Advocate Top Workplaces ceremony on Tuesday, 55 greater New Orleans area companies were recognized as the best places to work in 2019.
Held at the Ernest N. Morial Convention Center, the winning companies were represented by 490 of their employees, who attended to find out which businesses were chosen across various categories.
The overall 2019 winners were: from the large companies category, Harrah's New Orleans Casino and Hotel; Racetrac Petroleum, in the mid-size category; and the Woodhouse Day Spa, from among small companies.
The winners were chosen by a survey of 80 companies with a total of 40,000 employees, garnering a 53% response rate from those polled.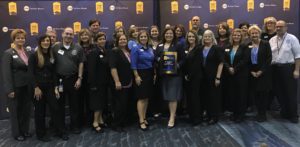 As well as the top overall winners, the survey, conducted by workplace consultant Energage, also asked participants to pick top companies in more than a dozen special categories.
Bob Helbig, a director at Energage, said the special categories, including "Doers", where employers go above and beyond for their employees, and "Meaningfulness", where employees feel they are doing something bigger than just the job itself, reflect changing expectations in the workplace, especially from younger workers.
"It's interesting, pay and benefits is at the bottom," said Helbig, referring to the level of importance surveyed workers attach to aspects of their jobs.
"Sure, there are certain expectations about pay and benefits, otherwise they wouldn't accept a job in first place. But the most important thing they say is 'leadership you can believe in,'" he said. "'Meaningfulness' is way up there, 'appreciation' is way is up there, too…But being paid well and being treated poorly is not going to make you want to go to work everyday."
Erin Warner and Denab Warner (no relation), co-founders in 2007 of the New Orleans franchises of the Woodhouse Day Spa, said the key to harmony in their workplace is a "no jerk" policy when it comes to the atmosphere they strive to engender.
The company started with a franchise in Slidell and now includes one in Baton Rouge, one in Mid-City New Orleans and one set to open in Metairie this October.
"We treat employees with a lot of respect but if we ever hear them talking bad about one another, it's something we don't tolerate," said Erin Warner. "We really try to have only people on the team that are in the mindset of building it up."
Woodhouse Spa also tries to create opportunities for their staff. Warner notes that Giselle Mcbee, who was general manager at the Canal Street franchise that they bought last year will now be a franchise partner in the new Metairie venture.
The company employs about 120 now, a number that is set to rise to about 170 by the time the new outlet gets up to speed, Warner said.