BY ANDREW CANULETTE ACANULETTE@STTAMMANYFARMER.NET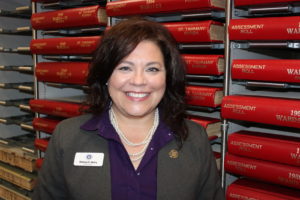 When Melissa Henry ran for St. Tammany Clerk of Court in 2016, one of the primary pieces of her campaign platform was to upgrade technology in the office.
Now, more than a 1-1/2 years into her first term as clerk, Henry continues to make good on her pledge.
The clerk of court's office is in the beginning phase of a technology overhaul that Henry said "will completely revolutionize not only our office, but the whole 22nd Judicial District."
Both the clerk's criminal and civil divisions will receive the software. Implementation began in November, and Henry expects the Odyssey system to be in place by early 2019.
Installation is not a quick process, she said, because Tyler employees actually help design each system around the specific needs of every client. The company is considered among the best at what it does, she said, and it has produced systems for public offices nationwide.
Tyler representatives currently are working with key members of Henry's team on how the Odyssey model can best fit the local system.
"We started e-filing (electronic filing), and it's been wonderful," Henry said. "But it's older software working with that system. When the new software is in place, all the systems can talk with one another. Documents will automatically be put into the system. Docket clerks get a suit and it automatically goes into the system.
"Judges will be getting their own part of the system, and it will be integrated with our office. So rather than us pulling files and rolling a cart of files to their courtroom, a judge can access the entire file on a monitor on (his or her) bench, proof it, can electronically sign something and it goes into our system automatically.
Attorneys can e-file and the public has access to it. "You can get certified copies, anything really. … If we can streamline the process and not lose the quality control, then that's the route we needed to go," she added.
Henry was so impressed with Odyssey that she placed a $300,000 down payment on the system this past summer. The entire upgrade will cost slightly more than $1 million, and while Henry realizes that's a lot of money, she said it will save her office money in a short amount of time.
The St. Tammany Clerk of Court's office will be the first in the state to have the Odyssey system, Henry said. She added that her office is applying for grants to help defray the cost, but that a thorough tightening of her office's budget helped make the purchase possible.
"I did a line item on our budget," Henry said. "We're getting better quotes and better prices on supplies from vendors. We found some mistakes in the way we were calculating things."
The Clerk of Court's office is not supported by its own millage, so its budget is determined by how much money it takes in collecting fees for the processing and handling of legal documents each year. More efficiency in the process should produce savings and thus additional revenue, Henry said.
"I've reassured them of their value and how they're needed now more than ever," Henry said.
Julie West, who has been with the office for 19 years and currently is in training to be the civil department head, said she's excited about the technology upgrades.
"I find the e-filing to be very user-friendly," West said. "And our new software program that will integrate with that e-filing system is the bomb. … I really think Ms. Henry did a great job of finding the right software that would bring us into the 21st century."
All deputy clerks will receive training on the new Odyssey system, Henry said. West noted that there are several upcoming seminars in which the legal community can learn how to use the e-Filing system. Those are scheduled for Feb. 15 and Feb. 21 at the clerk's Covington offices and Feb. 21 at the Slidell offices.
Even before the electronic filing and recording systems and the Odyssey announcement, Henry already was creating a more user-friendly way to access legal documents. Records from at least the past 30 years currently are online, and the clerk's office is in the middle of an "aggressive back-scanning project" to get older documents online, as well.